Fairfield Pallet is a full service pallet provider based in South Jersey, manufacturing and repairing pallets for over 40 years. We are committed to giving you a quality product and courteous service. We carry a variety of sizes and grade pallets, both used and new, to cover all your pallet needs. Whether you're shipping across New Jersey or across the globe, we have a pallet that can suit your specific needs.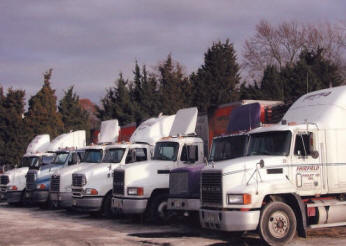 Our South Jersey pallet manufacturing and servicing company can help your business within the New Jersey, Pennsylvania, Delaware, Maryland, northern Virginia and southern New York regions.
Fairfield Pallet understands that each business is unique and has different pallet requirements. So if you're in Philadelphia, New York, Camden, Baltimore or anywhere in our service area, contact us to discuss your specific needs.
History
In the days when tomatoes brought a mere $30 per ton to growers, Herb Smith Sr., a vegetable farmer and industrial worker, added a pallet recycling business to his endeavors on his farm in the rural Cumberland County, New Jersey town of Fairton. During these humble beginnings of Fairfield Pallet, Herb's tools were a pry bar, a claw hammer and plenty of muscle.
Today
Over 40 years later, Fairfield Pallet Company has grown to employ 50 workers with 15,000+ feet of roofed work space on 8 acres of the 80 acre property, manufacturing pallets and skids in wood and plastic.
Fairfield Pallet handles a pallet's entire life cycle: from manufacture, to ISPM 15 Heat Treatment (for international shipping), repairs, delivery, and mulching/recycling.
Our repair processes are constantly being updated and automated to improve pallet quality and increase throughput. During our several years in business, Pallet Enterprise published article about Fairfield Pallet automation. ISPM 15 Heat Treatment under the supervision and certification of Package Research Laboratory are performed on premises with our own equipment.
Our South Jersey pallet facility manufactures and provides pallet servicing to hundreds of businesses within the New Jersey, Pennsylvania, Delaware, Maryland, northern Virginia and southern New York regions.
Still Family Owned and Operated
Fairfield Pallet has been family owned and operated for over 40 years. Herb Smith's sons Herb Jr., Dan and Mike manage the production operation while Herb's wife Frederica, and his daughter Cecily Riley manage the financial side of the business. Even though we provide world-class products and services, we maintain that family touch with our customers.